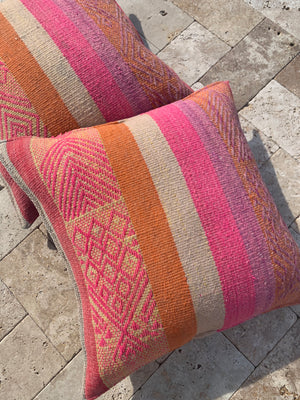 Pair of Frazada Pillows in Grapefruit (LARGE)
Sale price Price $180.00 Regular price $195.00
These pillow covers are handmade with frazada rugs which are woven by artisans in the highlands of Cusco, Peru. Traditional frazadas are colored with natural plant dyes and are made, over the course of 1 month, on a back strap loom.  All natural, made with sheep's and alpaca wool, each frazada is unique and reflective of its maker/weaver. 
This pair of pillows is backed with a lovely neutral toned wool, and closes with an easy zipper in the back. It does not include pillow insert. 

Each pillow cover measures approximately 23-24" square.
As with all handmade vintage items, there are sometimes "imperfections", as well as small variations in dimensions. These are what make them special, beautiful and real. Truly one of a kind.