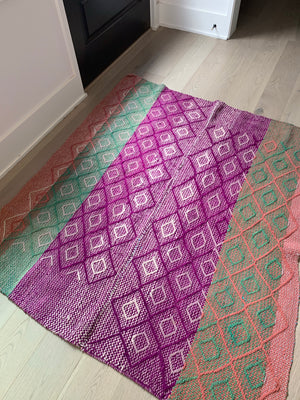 Peruvian Frazada in Sacsayhuaman
Sale price Price $250.00 Regular price
This frazada was handmade by a family of artisans in the Andean highlands of Cusco Peru. The repeating diamond shapes represent the shape of stones that were typically made in the archaeological zones of Cusco, This blanket must be looked at from the side, where you can see exactly the type of formation and cuts of stones that we normally see in Sacsayhuaman, a famous ancient ruin outside of the city of Cusco,  or on the street where "the stone of the seven angles" is in Cusco.  All sides of all stones are cut perfectly so that they meet or join exactly in perfect straight lines which is quite an architectural feat considering the timeframe these ruins were contructed in Peru. 
Traditional frazadas are woven on a backstrap loom, over the course of 1-3 months. They are made in 2 panels that are then stitched together to form the frazada. All natural, made with sheep's and alpaca wool, they are thick and  made for warmth and durability in order to protect from the chill of the Andes. Each one is unique and reflective of its maker/weaver. This frazada is thick, soft and extra cozy. 
Measures approximately 60 inches x 70 inches 
As with all handmade items, there are sometimes "imperfections". These are what make them special, beautiful and real. Truly one of a kind. 
Care Instructions:
Dry cleaning is recommended.
Overall, frazadas are hardy and need little care. 
If you wash by hand or in a machine, I recommend using cold water only.