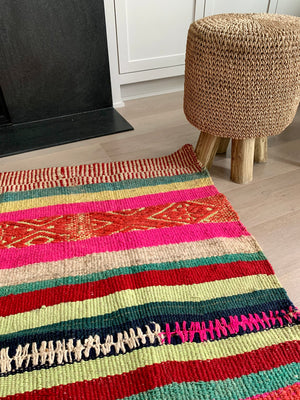 Peruvian Frazada Rug in Pachamama
Sale price Price $250.00 Regular price
This vintage frazada is approximately 10 years old and was handmade by a young artisan in her late 20s who was guided by her grandmother to make this beautiful rug.  The patterns and colors in the design tell a story. The complete diamond shapes filled with the flowerlike pattern represent Pachamama or Mother Earth. The incomplete parts of the pattern in red/yellow is intentional and indicates that the young artisan is single. Also, the center design of the blanket  represents the "asequias" which are aquaducts, the  irrigation channels that the Incas are famous for their engineering abilities. This frazada is a beautiful meld of old and new artisan techniques connecting across generations: The design patterns are considered antigua or traditional in design and were included due to the grandmother's influence while the bright colors are more youthful and represent the young maker herself. 
Frazadas are woven on a backstrap loom, over the course of 1-3 months, by artisans in the highlands of Cusco Peru. They are made in 2 panels that are then stitched together to form the frazada. All natural, made with sheep's and alpaca wool, they are thick and  made for warmth and durability in order to protect from the chill of the Andes. Each one is unique and reflective of its maker/weaver. This frazada is thick, soft and extra cozy.
Measures approximately 56 inches x 55 inches 
As with all handmade items, there are sometimes "imperfections". These are what make them special, beautiful and real. Truly one of a kind. 
Care Instructions:
Dry cleaning is recommended.
Overall, frazadas are hardy and need little care. 
If you wash by hand or in a machine, I recommend using cold water only.