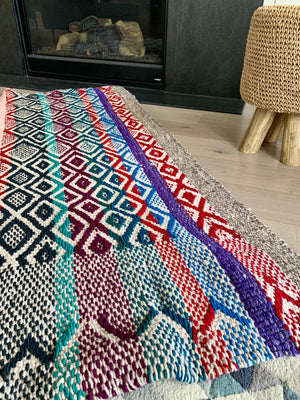 Peruvian Frazada Rug in Intihuana
Sale price Price $250.00 Regular price $0.00
This vintage frazada is approximately 60 years old. It was handmade by artisans in the Andean highlands of Cusco Peru to tell the story of the Intihuatana, or solar clock.  Intihuatana is a ritual stone in South America associated with the astronomic clock or calendar of the Inca. The most famous Intihuatana is an archaeological site located at Machu Picchu.  The Intuhuana story is told by this frazada's artisan in it's symbols and patterns: It is filled with diamonds enclosed by other diamonds and then on one side there are "cardinal sides" to look north, south, east and west through. When the sun hits it, located at the top of the sacred mountain, it is a wonder of ancient technology, telling when it was the time to celebrate the winter solstice and the other seasons. 
Traditional frazadas are woven on a backstrap loom, over the course of 1-3 months. They are made in 2 panels that are then stitched together to form the frazada. All natural, made with sheep's and alpaca wool, they are thick and  made for warmth and durability in order to protect from the chill of the Andes. Each one is unique and reflective of its maker/weaver. This frazada is thick, soft and extra cozy. 
Measures approximately 62 inches x 72 inches 
As with all handmade items, there are sometimes "imperfections". These are what make them special, beautiful and real. Truly one of a kind. 
Care Instructions:
Dry cleaning is recommended.
Overall, frazadas are hardy and need little care. 
If you wash by hand or in a machine, I recommend using cold water only.